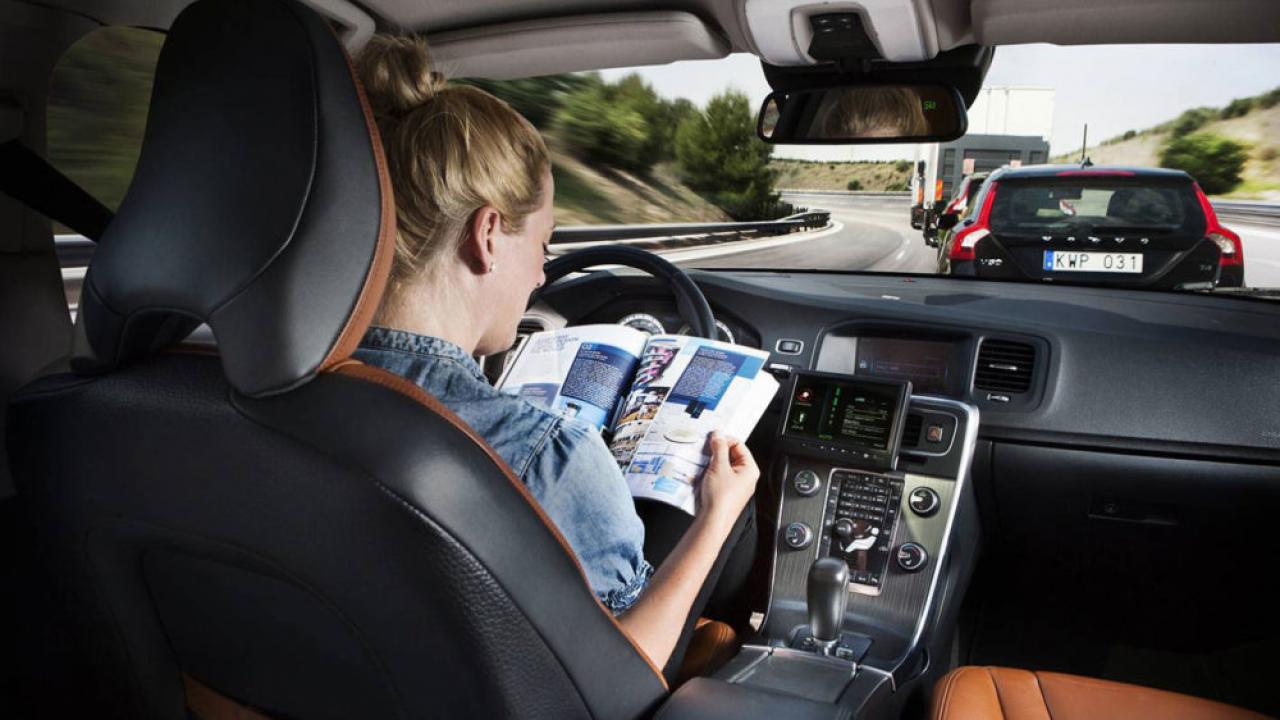 Will Self-Driving Cars Usher in a Transportation Utopia or Dystopia?
By Jacques Leslie
Automated cars, often referred to as "autonomous vehicles" (AVs) — whose passengers determine their routes without having to drive them — are being widely developed and tested, and probably will be used commercially in controlled settings within a few years. Lyft, Uber, and others have introduced ride-sharing, in which customers agree to travel with strangers in return for reduced fares. Put all three concepts together in one vehicle, posit that within a few decades this shared EV-AV technology will take over the nation's automobile fleet, and the outcome seems environmentally irresistible, verging on fantastical.
But it's equally plausible that the vision may turn out to be a mirage. Automated vehicles may eventually be widely adopted, but if the fleet is not electrified using renewable energy, or car sharing fails to take off, greenhouse gas emissions and air pollution could actually increase. A study last year by University of California, Davis researchers projected that if vehicles are automated but not electrified or shared, greenhouse gas emissions from the transportation sector would go up 50 percent by 2050 compared to business as usual. But if shared, electrified, automated vehicles flourish, greenhouse gas emissions could plunge by 80 percent, the study concluded⁠.
Daniel Sperling, director of the University of California, Davis Institute of Transportation Studies, is one of the chief proponents of the shared-EV-AV vision. Because of it, he writes in his book, "Three Revolutions: Steering Automated, Shared, and Electric Vehicles to a Better Future" (to be published in March), "For the first time in half a century, real transformative innovations are coming to our world of passenger transportation — with the promise of huge energy, environmental, and social benefits." 
"Hardware and software will need to figure out how quickly cars are merging into freeway traffic, anticipate when someone is about to pull a U-turn or make an illegal left turn, and myriad other actions that can result in deadly crashes⁠," Sperling writes in "Three Revolutions." As a result, automated vehicles will be forced to give a wide berth to human-driven ones, lowering overall road speeds and increasing congestion.
Despite all this, Sperling is optimistic about the future of "three-revolution" cars. "I think we're ahead of the curve on this one," he said in an interview. "Usually when you do policy, you're lagging behind the disruptive technologies, but in this case we have an opportunity to lead. And companies like Uber and Lyft are well-aligned with the public interest — they see pooling as important to their business model and important to their future."
...Read the full story at Yale Environment 360